Welcome to the Feedback/Comments/Reviews Page!

If you would like to add your own Feedback about Tricia's Artwork - Please submit your comments here
Your name/location etc will only be shown if you are happy for it to be and NO info or email addresses received
are EVER shared or passed on.

FeedBack. As Received: 31 May at 21:35 From: Dianne R.
Ref Subject: A3 Portrait Commission

"" WOW! What a stunning family portrait you've done for us Trish, thank you so much for your attention to detail and your friendly manner. I've had so many wonderful comments about my picture, and I REALLY love it! What a fantastic gift you provided me with that will be cherished for many years to come. I was very dubious, its a big step to allow someone to do this for you, but you have a great talent and its great to get the whole family together, without getting the family together lol. Thanks so much xx

> Leeza Cairney - 01 June "its really really good.x"

------------------------------------------------------------------------------------------------------------------------------------------------------------------------------------

FeedBack. As Received: 03/12 From: Barbara M. Elizabeth NJ USA Ref Subject: A2 Portrait Commission...

Tricia :
Oh My GOD!..........it's here
It is absolutely Beautiful I cried
I cannot believe you captured these two hound doggies and their every little detail !
You did not miss a dot......spot.......or lick LOL LOL
I don't even know the words to use to describe how pleased and happy I am to have
these two mostly wonderful dogs portraits hanging up for ALL to see and for ALL TIMES.........

You have been an asset to me and I applaud you with such fine detail and quality of work..
...you are highly recommended

You may use this portrait to show all the fine work you do and you can also use this letter from a
Very Very PLEASED customer on your web site.
Anyone wanting FEEDBACK for this Artist you are free to contact me any time through her WEBSITE...
.. SHE COMES HIGHLY RECOMMENDED BY ME._____

Work was packed and shipped beautifully.........the time frame for the initial drawings and shipping was done nicely.
The communications with the Artist was EXCELLENT and she replies Quickly.

Thank you so very much, you were a Pleasure to do business with. I will keep in mind having my
deceased BUDDIES done by you in the future also.

I appreciate all you have done for me and for making me so very HAPPY !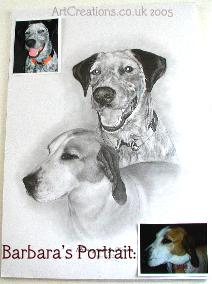 Love ya
Barbara Malakuskie
Elizabeth NJ USA
___________________

___________________

FeedBack. As Received: 27 February at 01:16 From: Yvette West Ref Subject: A4 Portrait Commission
" EXCELLENT..... WE ALL LOVE THE PENCIL DRAWING U DID OF OUR KIMBERLEY AND SOPHIA. THANK YOU AGAIN FOR IT, ITS PERFECT. XXXXXX"
______________________________________________

FeedBack. As Received: 12/02 From: Sue P, Ref Subject: 2 x A4 Portrait Commissions
Dear Tricia, I got the portraits thismorning and I just cannot find the words to tell you how pleased I am - The drawings are just fantastic, You have captured the cheekiness of the dog just perfectly! and our moggies portrait is also just perfect. I cannot wait to give them to my mum & sister! I need to hide them away now but I just cannot stop looking at them! You really do have a wonderful gift & i want to thank you for sharing it and enabling me to give the best presents ever! It has also been a pleasure dealing with you through the whole experience - You have my complete recommendation (Please feel free to put this email on your website). I am now finding up more of my favourite photo's to order more portraits! They are just brilliant!
Thank you again very, very much for all of your help & for these two amazing portraits, I will let you know the responses when I give them out but I'll be back in touch before then (middle of next week) with more orders!
THANK YOU! from a very happy customer, Sue x

_________________________________________
REVIEW from: Kathy A · 03 November at 17:44 .." i really like the work that is shown under art creations!! anything to do with fairies is ok by me, but this site is so pretty and the quality of the work is great!!
___________________________________________________
FeedBack. As Received: 12/10 From: Kirsty L Ref Subject: Portrait Commission
Hi Tricia, Just received my portrait this morning, it is wonderful :) made me cry when i saw it, it is so life like, will definatley be asking you to do some more work for me in the new year (of my boys) if you have time, Thankyou so much, Kirsty
---
FeedBack. As Received: 12/05 From: Richard C Ref Subject: Portrait Commissions
Good morning. Just to let you know that it arrived this morning....it is fantastic. Both myself and my wife love it. My mum will be amazed when she opens it on christmas day!!!! Cant wait to see her face. You can use it as an example your site,
My mum will be very proud that her two cats are on your site. Thank you very much. Richard C.
P.s once my mum sees this you may find you end up drawing some other pictures for her..
..If I know anyone that would wants any pictues drawn i will be sure to give them your web site address.
---
FeedBack. As Received: 12/03 From: Alan H Ref Subject: Portrait Commissions
Hiya Tricia, Potrait received this morning . I am very impressed, it will look stunning in a frame. It looks better than my photograph, proportions and detail are excellent .The detail in the front tyre pattern is amazing . I have taken a photo of it and will give you a plug on the Lotus website .
In the portrait the windscreen looks real . It will get pride of place in my living room . Thanks for all your hard work . Do you think you would have enough time to be able to do a portrait or even two of a dog by Christmas? Cheers Alan H
---
FeedBack. As Received: 12/03 From: Lorraine, Kent. Ref Subject: Portrait Commissions
Just to say i received the portraits and they are realy fantastic, thank you so much, they look so life-like, i cant beleive it! I will be back to you in the new year (if you have not had enough of me by then haha! ) as i have another 5 portraits I would like. Again thank you so much, regards as always, lorraine and chantelle
---
FeedBack. As Received: 12/03 From: Karen K Ref Subject: A4 Portrait Commission
Hi, Portrait arrived today, It is brilliant, I'm so pleased, It's made my xmas :-) Many thanks, Karen
---
FeedBack. As Received: 12/03 From: Stuart Ref Subject: A4 Portrait Commissions
Hi, Just to let you know that the portrait of my two cats (Rigsby & Vienna)arrived safely today. I am very pleased with it, it's really caught them exactly. Thanks for all your help. All the best, Stuart

---
FeedBack
. As Received: 12/03 From:
Ceri R
Ref Subject: A3 Portrait Commissions
Tricia, Hi, the portrait of Lucas arrived this morning and its perfect thank you ever so much,
its going to make a perfect Christmas present for my Mam and Dad. Thanks again, Ceri
---
FeedBack. As Received: 19/11 From: Mark S Ref Subject: A4 Portrait Commission
Hi Tricia, Cindys portrait has arrived and is fantastic, im sure dad will love it, thanks very much, will probably use you again for our 3 cats Sugar, Cookie & Zero Have a great Christmas and all the best for the new year Mark & Tony x

---------------------------------------------------------------------------------------------------------------------------------------------

Feedback. As Received: 04/06 From: Adrian S. Ref subject: A4 Portrait Comission
Many thanks for portrait it looks great. The owner of the coach will be very happy I hope ;0) arrived in perfect condition.
---

To see more Feedback left for Tricia - Click Here
I hope you find thisCustomer Feedback/Comments & reviews page helpful,
If you have any
FEEDBACK
or
COMMENTS
regarding your Portrait Artwork or any purchase & the Service you received etc.
that you would like to add here, then please email
here